Artist Director, Conductor and Soloist:
Vladimir Rasskazov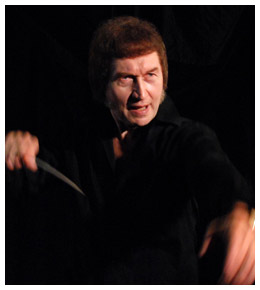 The orchestra was created on the basis of the chamber orchestra «Renaissance», appeared in 1989. (In comparison with the other orchestras which have just one direction (such as chamber, symphonic, variety), the concert orchestra Renaissance is a unique orchestra. It synthesizes almost all genres, that makes it democratic and accessible for the widest layers of public. The orchestra had concerts in the most famous concert halls of Moscow and St.Petersburg, had tours in Spain and Germany. The records of the orchestra's performances were shown on TV many times.
The leading performers of instrumental music and vocal art play with the orchestra.
The repertoir of «Renaissance» contains music from the Barocco epoch, Viennese classicism, russian classical music together with modern jazz compositions made by the art director, that is why the concerts of the orchestra attract constant interest of spectators. Owing to high professionalism and the perfected skill the concert orchestra «Renaissance» adequately represents Moscow musical art in the russian regions, and different countries all over the world. The recent tour to Turkey has once again showed the creative possibilities of the musicians of the orchestra, which showed a many-genre programme from classical music to jazz compositions and they have constantly aroused delight and long applause, even by those people who have occasionally got on the concert. The conceit orchestra «Renaissance» possesses high quality of performance, bright individuality, flawless feeling of style.
The way the soloist of the orchestra Vladimir Rasskazov performs is distinguished by perfect technical skill, beauty of sounding, deep , penetration into the author's idea. The artist carries away the spectators with expression, grace and romanticism.