Artist Director, Conductor and Soloist:
Vladimir Rasskazov
The orchestra made up of twenty-two members was established in 1989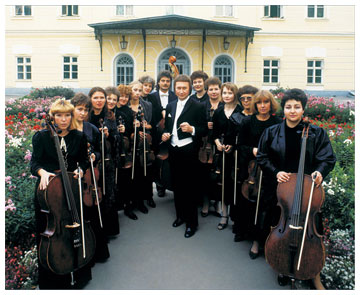 The orchestra's concert activities aim to propagate the best samples of West European baroque music, Russian and present-day classical works with due account of the remarkable traditions established in chambler music in both Russia and Europe. The group regularly performs in prestigious concert halls in Moscow an St. Peterburg and toured Spain and Germany. The Ostankino TV channel repeatedly showed the orchestra's perfomance.
Commissioned by government, our orchestra recorded a compact disc at the Ail-Union Melodia Company (now "АО Russky Disk").
The orchestra engaged leading instrumental music performers and vocal soloists.
The Renaissance program includes music of the baroque epoch, Vienna classicism, Russian classical music as well as modern jazz compositions arranged by the orchestra's artistic director; therefore, our concerts are acclaimed by the public at large both in Russia and abroad.
Renaissance features striking perfomance, bright inimitable identity, vivid and refined nuancing, an impeccable sense of style, and polished shading.
The play of the orchestra's soloist Vladimir Rasskazov is distinguished by consummate technical artistry, beautiful sound, and deep insight into the author's concept. The performer fascinates his listiners by his expressiveness, elegance and romanticism. Vladimir Rasskazov also performes in concerts as soloist in the company of a pianist.
Their repertoire is versatile and covers baroque epoch music, virtuoso romantic works as well as present-day jazz compositions.